Our Background and Purpose
Hokkaido University's history of promoting sustainability can be dated back to the establishment of the Sapporo Agricultural College. In 1869, Kaitakushi(開拓使) was established for the development of Ezo (Hokkaido), and in 1876, Dr. William Smith Clark was invited to establish the Sapporo Agricultural College, the first institution in Japan to grant bachelor's degree.
The educational philosophy introduced by Dr. Clark at that time has been carried over to the four basic philosophies of Hokkaido University today: "Frontier Spirit," "Global Perspective," "All-round Education," and "Practical Learning."
These philosophies are strongly related to the SDGs (Sustainable Development Goals), such as "leave no one behind," "respect for human rights," and "well-being," so it can be said that Hokkaido University has been committed to the SDGs since its founding. On the other hand, in February 1997, Hokkaido University was the first national university in Japan to formulate a "Campus Master Plan" as campus space planning goals and guidelines for facility and physical environment maintenance and management. Since then, Master Plan have been formulated in about every 10 years to realize an incomparably beautiful campus.
Based on these history of the University and its nearly 150-year history of maintaining a vast and beautiful campus and extensive research forests in an urban setting, Hokkaido University has been recognized as a research-led core university that can fully contribute to the achievement of the SDGs as an "incomparable" university. In December 2020, the University has applied "contributing to the achievement of the SDGs" for a core part of its vision.
To realize this vision, we determined that a specialized organization to promote SDG-related projects was necessary. Thus in August 2021, we established the "Institute for the Advancement of Sustainability" headed by the President, which includes the "SDGs Initiative Office" to strongly promote SDG-related projects and the existing "Sustainable Campus Management (SCM) Office. Through these initiatives, Hokkaido University promotes sustainability.
---
The brochure (in Japanese) is below.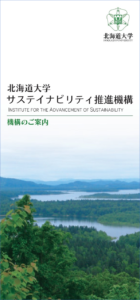 ---
A press conference was held on July 29, 2021 to announce the establishment of the Institute for the Advancement of Sustainability.
The presentation material (in Japanese) is below.